A ne pas manquer Actus Actus Canoë-Kayak
Nordic Kayaks is coming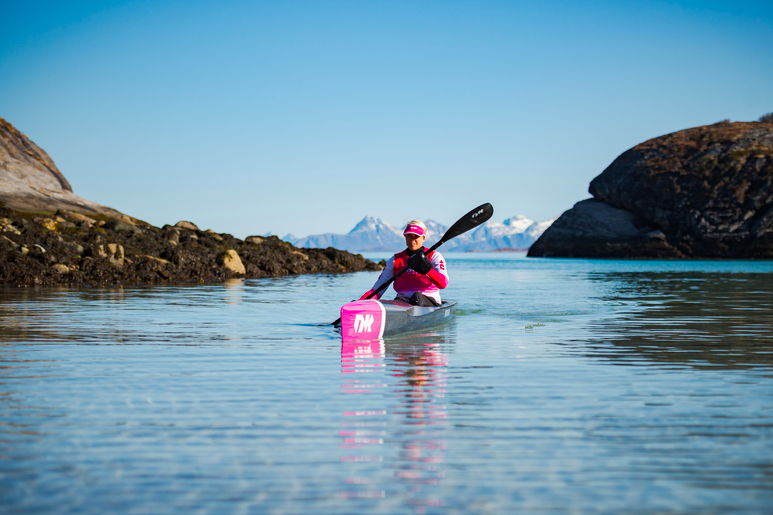 Nordic Kayaks (NK) is a Swedish company, dedicated to the development, manufacturing and marketing of state-of-the-art surfskis – relying on a combination of CAD and traditional drafting skills, with input from experienced elite paddlers and designers, building and testing prototypes to confirm the theoretical data, and specifying the best materials and cutting edge manufacturing technology. Here is the company story from its first steps to nowadays impressive growth.
Nordic Kayaks' Origins
It all started in a garage
It all started in a garage. Everybody loves that kind of story, because it immediately and unconsciously tells us "this could be me". Well it won't end up with a first million and McLaren very fastly like Elon Musk, but it's still an inspiring story about resilience, passion and success. Nordic Kayaks, was founded in 2006 in Vaxholm on the Swedish east coast, by Fredrik Lindström and Peter Bringby.
Disappointed with the multisport kayaks commercially available at the time on the market, they set about designing their own. Fredrik and Peter were Building on extensive experience with all kinds of kayaks since the mid 90s, from Olympics K1s to multisport kayaks and surfskis. The result, was the Rocket. An all-out, no holds barred multisport racer that pushed the envelope. And at the same time, the other effect was developing a path to even more efficient hull shapes and even better interaction with the paddler in the future.
The year is 2006. Like a true entrepreneur sucked into his project, Fredrik rushes home from work to fine-tune his design program, test a new shell, or chat with the athletes who parade through his garage. Not a design engineer at all, Fredrik trains himself on CAD software. With hard work, the Swede began to understand the software's data. « After a while I began to understand what the numbers on my computer represented or would represent in real life."
Lindstrom spends all his free time on the Rocket. And with a little hindsight, it doesn't look like much at the moment.
Firefighter and kayak builder
The early days are always a fond memory. "I have test memories of paddling with a plastic deck leaking everywhere. I lived with the hull of the boat in my garage where the athletes came by to give feedback, my wife was not happy at all."Laughs Fredrik. And yes, of course… If having two jobs meant that you could have a more fulfilling family life, it would be known. What I learned in my drawing program is the numbers in the computer and what they mean when you're on the water. A key to find a balanced boat that doesn't behave strangely. He explains.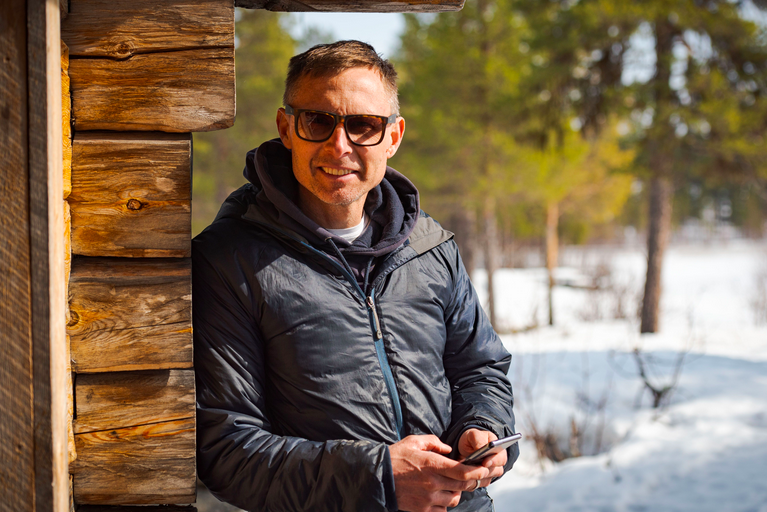 From Fredrik's garage to a company in the making
At that time, Fredrik was still working as a firefighter and doing his kayak project in addition. He continued his double job until 2014 before devoting himself fully to model design and Nordic Kayaks in general. But what could be seen as something detrimental will once again become an advantage. Nordic Kayaks progressive start allowed a great company's flexibility. But we'll get to that later. Now is the time to organize and structure the transition from Fredrik's garage to a company in the making.
In order to fulfill this potential and to make full use of the knowledge and experience gained during the first years, a team of hydrodynamic experts, CAD engineers, graphic designers and elite paddlers has been formed to establish the basic specifications for a long-term cooperation in the development of a new line of very fast and efficient surfskis. The first models are the famous and innovative Fusion and Rapido, later followed by the Nitro, Storm, Squall and Exrcize. "Now we can proudly offer a complete range of surfskis from elite to beginner models, for small and for large, making sure there is an NK model that shall suits everybodys needs." Said Fredrik Lindstrom.
Surfski wave in Europe
The Rocket was released in 2006. But surfskiing really came to Europe in 2008. Before that, no one was paddling in Sweden, » says Fredrik. Indeed, it's easy to understand that in the cold waters of Sweden and the Nordic countries, surfskiing was not the number one choice. And to be honest, apart from a few Spanish and of course French paddlers in Brittany mainly, it wasn't really a thing in Europe before 2008. The other European paddling communities were already big and developed enough, be it on the sea, the lakes or of course the rivers, for surfskiing to have a say. The sea navigation was of course already very active, but only in decked sea kayaks. This had a profound chiasmus effect between experienced users and the kayak manufacturing industry.
People looking for performance, were not at all seduced by salty paddling sessions. In other words, no one could find the right fit. But the opposite was also true. A brand producing carbon boats could not speak to beginners looking for stability and safety. Either you were sailing a composite kayak in search of speed and thrills, or you were going for a decked sea kayak at the expense of performance. Fredrik and Peter understood this split early on. And so the main focus of development at NK was from the very beginning to produce a range of high performance boats for the masses. Nordic Kayaks is one of the first kayak brands that has been able to reach out to the masses with a variety of models, while producing boats of the highest quality.
"The Safest kayak there is"
We are in 2008, surfskiing arrives in Europe, especially in Sweden. If at the beginning most of the paddlers are skeptical in the cold waters, they are finally numerous to change their mind. As for Fredrik and Peter in 2006, surfskiing is received as an object of revolution. In Stockholm, there are four canoe clubs in the city center alone. « Before 2008, 100% of the boats were racing kayaks or decked sea kayaks. Today, 50% of the fleet are surfskis, » says Fredrik. That's what we call a big change. And is it really that surprising? This new machine from the southern hemisphere has everything to seduce.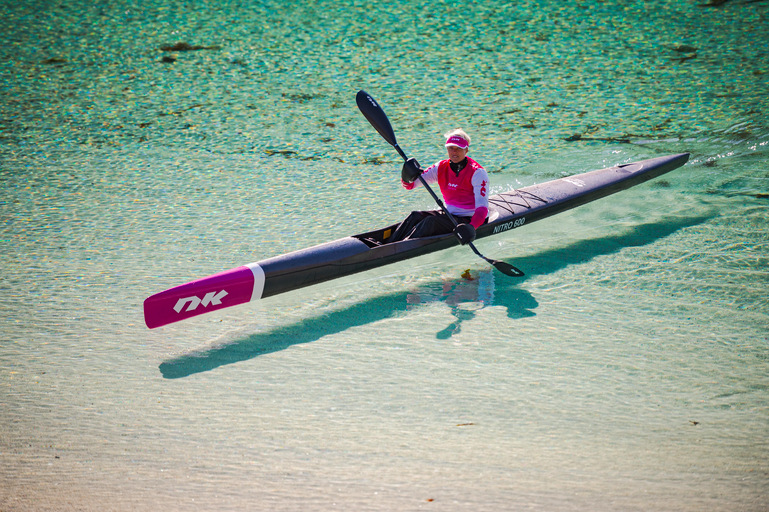 If the notion of surfing and playing with the elements characterize it for the initiated paddlers, it is another factor which makes it a development opportunity for the sport in general. The big difference, the key point of this discipline and craft, is its unsinkability. In surfskiing it is not a drama to fall off, it is even part of the activity. This is what makes surfskiing fundamentally different from other more traditional kayaks. And this notion is central in a more global development and for the conquest of new markets where kayaking does not exist or is struggling to become more democratic.
What is happening in Sweden can also be observed in French kayak clubs and even a little bit among individuals. More and more surfskis are replacing flatwater racing kayaks, downhill boats or sea kayaks. The fleets of European clubs have more and more surfskis in their containers. It is therefore clear that this type of boat seduces Europe too. Good news for Nordic Kayaks.
Hit but not sunk
In 2009, Fredrik, Peter and their team joined forces with professional sailors who specialize in carbon design. The idea was to make the lightest kayak in the world. And it worked. "We even got one under 7.8 kilos… » recalls Fredrik. The problem is that the sailors in question are overwhelmed with projects. They can't produce on time. The waiting time climbed to 7 months… Another problem was the cost. At that time, the boats were already in autoclave, but no one wanted to buy one because the price was close to that of a super second hand German car. The rocket costed twice as much as the rest of the market, and that was a big problem.
Journey for quality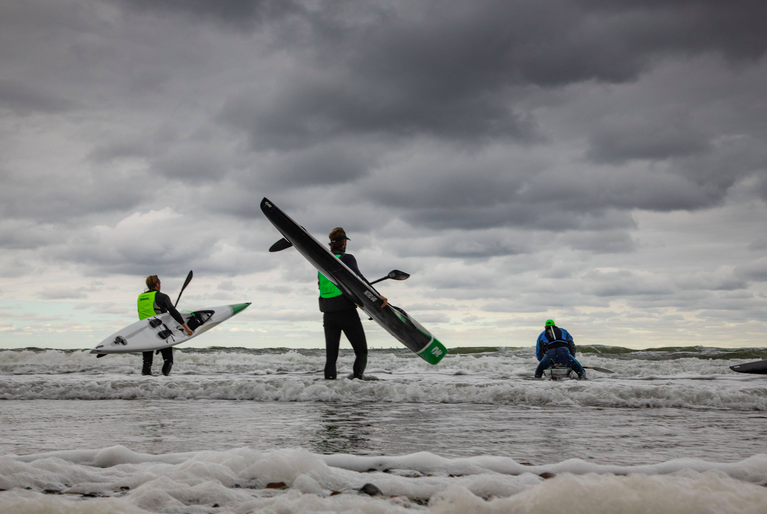 It was a hard blow for the team and especially for Fredrik, who knew how difficult it would be to set up a new production system of such high quality. After that Fredrik Lindstrom was constantly looking for solutions and new production sites. During a three years journey to find solutions, Fredrik got to the other side of the globe and also continued to work on hull shapes with Peter in the meantime. "We tested a lot of things. At first we had a flat hull, which was quite fast, but it was different in the wave, and when we made the Nitro's hull rounder, we took a real step towards performance without compromising the boat's stability or surfability." Fredrik proudly explains.
Back in business
In 2012, the brand is making a huge change by moving production to China, while being aware that it will take a lot of effort to find someone who is good at autoclave construction again. For the moment, there is enough to restart production with a competent team and modern machinery, but it is impossible to find someone who masters the famous manufacturing process.
So Nordic Kayaks is back in business. The factory delivers clean, finished boats on time at a much lower cost. But no one here knows how to build in autoclave. So it's still half a victory. Fredrik and Peter do not want to let go of their quality expectations, although the final result is already in the high end of the existing market. The first boats are going to be sold in Australia, and some will also be sold in Sweden. But overall, something is not right.
10 years in the making
Sometimes the quality of the product is not enough. In 2014, Fredrik took some boats to the European Surfski Championships in Portugal. It will be a fiasco where the athletes observe with curiosity and envy the quality of making, without considering the boat as a possible performer. Why did this happen? Probably because no one had ever heard of Nordic Kayaks at that time. The market clearly did not seem ready to consider a high-performance surfski made by Swedes.
Remember that at that time, the surfski market was essentially divided between two brands: Epic Kayaks and Fenn Kayaks. The Portuguese kayak giant Nelo released its first surfski model. And despite an impressive strike force and a nice marketing operation with the best athletes racing in line who come to try surfskiing at the European Championships, in Nelo of course, the report is almost the same. The 560 from Nelo and the Nitro from Nordic Kayaks are almost unnoticed. It will therefore take patience.
« We really need to be present on the races."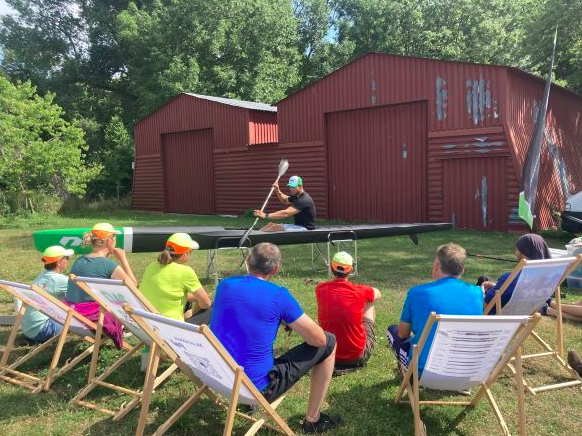 Beyond the real quality of the boat and the brand, it will first be necessary to gain legitimacy. This is the main obstacle for the European market, which is largely conditioned by competitive practice. To exist in the collective imagination as a solution for those seeking a stable, high-performance sea kayak, we must first make ourselves known to insiders and build a team of ambassadors and athletes who will make Nordic Kayaks shine on social networks and international podiums.
"That's when we began to realize that we really need to be present on the races." Fredrik says. Today, internationally renowned athletes send their applications to Nordic Kayaks to represent the brand. It's been almost 10 years since the Nitro was first built. That's how long it took for the brand to gain credibility, assemble a high-performance athletic team capable of demonstrating the real value of the product, and finally show that Nordic Kayaks is a major player in the growing market.
The more the clock ticks, the more the production process progresses. « Quality has become our biggest concern, we have worked very hard to offer a different level of quality, » Fredrik explains again. Continuous improvement of the materials used and a great mastery of epoxy manufacturing make Nordic finished products a must in terms of quality on the market as of 2014. But Fredrik still had the design of the first autoclave in the back of his mind and couldn't let go. The same year the Nitro was presented at the Euro surfski in Portugal and after 8 years of developing his floating babies, Fredrik met what would become a gamechanger and a reward for all the effort. Call it luck or fate, Fredrik Lindstrom meets Magnus Debrito and it's a fusion of minds and skills that will do the rest.
From Porsche Carrera GT to Nordic Kayaks
If at first it is Sweden that brings them together, the relationship between the two men develops very quickly. Again, Fredrik will tell you that he was extremely lucky to meet someone like Magnus. But deep down, we understand the determinism and the good idea behind Fredrik and his stammering in his garage. Well, we have to admit that he didn't fall on the worst one in terms of design.
Magnus Debrito is an experienced Swedish designer with more than one project under his belt. He has led design projects for industry giants such as Porsche, Scania Trucks, Intelligent Sound, Pirelli Boats and Agipi Marine. Using computer technology, Magnus was responsible for streamlining parts of the new generation Porsche Boxter 987, Carrera 997 and Carrera GT. Just that. He was so humble and kind to me, we could only become friends. He was the key to the establishment in China and later he devoted himself entirely to the production of surfski. Today he is a friend with whom I talk every day. Explains Fredrik almost still amazed.
Made in China
China. Most of us have a cliché in the mind. "People think that China is synonymous with low cost and cheap design, but that's absolutely not true, they are at the top of their game » Fredrik adds. Modern machinery, face masks, inhalation masks… When you listen to Fredrik, the Chinese factories that Nordic Kayaks works with have nothing to envy to Europe. At the same time, we understand that this meeting comes as a result of many years of research in the industry for a brand that refused to accept the market standards to aim higher. The Chinese are extraordinary. If you manage to meet the right conditions and the right people. I was very lucky in meeting the workers and the knowledge I had of kayak design, because it's really very difficult to set up. He added too.
In 2014-2015 Nordic Kayaks begins to sell some boats. It was not until 2016-2017 that NK saw a real increase in orders. "From then on it really took off in Australia but also in the Nordic countries and Denmark." says Fredrik. From that moment on, it was mainly the Storm, the Squall and the Exrcize that were sold in the northern countries, while in Australia more Nitros were sold.
Innovative
Nordic Kayaks has always had an innovative approach based on scientific facts. Its managers and workers have never shied away from the task, on the contrary, trial and error have been numerous. Probably even more than most companies looking for a quick buck. « We worked a lot on the cockpit. We deeply wanted a boat where you feel comfortable for hours. But for many to feel comfortable in it, there is always a compromise. We found a good one with the seat, which is bigger than most other surfski seats. » explains Fredrik
Autoclave, a real gamechanger
But in 2018, despite Nordic Kayaks' growth synonymous with market success, Fredrik, Peter and Magnus Debrito decided to take all the existing designs and use all their knowledge with the new autoclave production technology. It was a huge effort, but we felt we had to do it. Fredrik calmly explains. The main advantages with prepreg and autoclave are that the amount of resin and material is always the same, the epoxy is the same throughout the range. The technology is reliable and controlled. And that's probably what most brands lack of. With skilled workers, it's easy to make good boats, but it's very difficult to make many good boats. Fredrik says.
Here with the autoclave it's a reverse approach. We invest in technology to be able to produce quality in mass. The only problem is that we have to be able to invest in this process. From 2019, Nordic Kayaks will offer its entire range in pre-preg autoclave. The boats are very well finished and above all, among the lightest on the market. The company is able to mass produce boats of very high quality. Depending on the construction chosen, a Nordic boat will always weigh between 11 kilos and 8.5 kilos, for 6 meters in length…
Finger pointed and jealousy ?
Yet, despite all that has been put in place of the company's construction and boat models, some rumors were circulating in the surfski industry. The Nitro would be a copy of existing models. Enough to anger the squadra Nordic Kayaks, especially when you know that it was first presented in 2013 and not 2018 as many believe.
"It's sometimes hard to take false criticism without flinching. We've been accused many times of copying Epic Kayaks or even Fenn Kayaks. Between 2013 and now, the only change on the boat was to move the cockpit forward 2 cm. This was a request from Gordan, so that the boat would have less effort in overtaking the waves at sea or even better passing the wave of competitors on mass start or sprint finishes. The only things in common with Epic were the plastic parts available for purchase on the market." Fredrik says, and he seems to be amused by the rumors about his brand now. "We developed something with Magnus that then benefited the wider world. Without going into detail, we understand why it's ironic to be accused of plagiarism when you are actually the forerunner in the field."
Encounters makes projects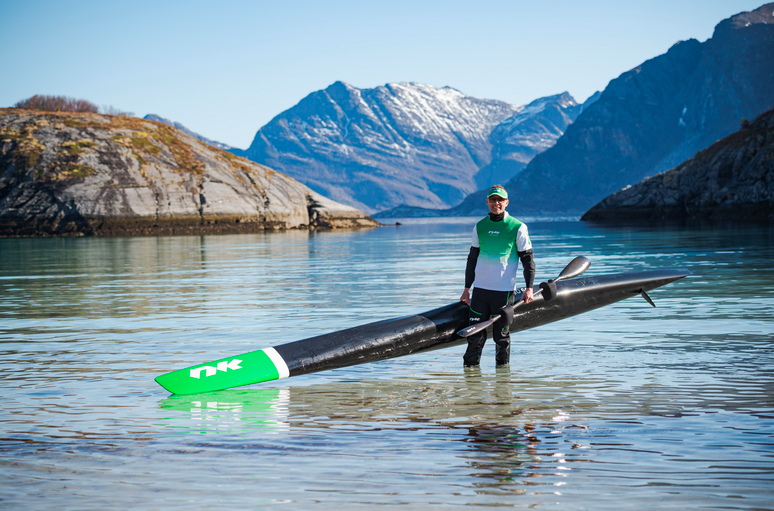 Meeting with people. Fredrik is not the first self-entrepreneur who insists on meetings as a key factor for success. Among the important ones for the development of Nordic, there was Magnus Debrito of course, who made it possible to meet the right people capable of producing in China. But there was also Gordan Harbrecht. Coming from flatwater racing, Gordan is a pro athlete who in 2015 decided to devote himself fully to surfski after narrowly missing out on selection for the 2016 RIO Olympics (2nd in the k1 1000m selections behind a famous Max Hoff).
Gordan, the perfect match
Fredrik and Gordan met for the first time at the Nelo Summer Challenge, a major event in the European surfing calendar. The two men quickly got to know each other. The values and the Nordic culture are more or less the same for the two protagonists and quickly, a natural attraction takes place. We felt confident with the Nitro. We started talking with Gordan Halbrecht and from the beginning he was the athlete for us. A tailor-made ambassador. Fredrik says with a smile.
First as an athlete and then as an ambassador, the German giant called Fredrik back at the beginning of the second year. The following year, Gordan became our dealer in Germany in Rostock. Smiles Fredrik. Together they founded Nordic Kayaks Europe. Rostock became a point of distribution, sales, testing and coaching. Success was almost instantaneous. At that time, sales in Europe were still very low outside Sweden.
But with Gordan at the helm, German interest exploded. Nordic Kayaks were sent to all corners of Germany and began to shape a more ambitious market, that of global Europe. "The timing was perfect, not only with Gordan but also with the arrival of the new construction process at the right time." Fredrik admits that he feels lucky and proud of the choices he made. We have doubled our sales in two years. The market for us in Europe and Australia is quite the same, we are confident and happy. "The other market we have yet to conquer is the United States." Fredrik adds.
There, the Swedish company will have a lot of work to do to get a share of the market. But when you look at Nordic Kayaks' track record, you don't have to worry about its potential success. The company is flirting with the status of a love brand. The returns (and envious looks from other equipment manufacturers or their athletes) speak it all about the svensk kvalitet (Swedish quality) which should not have too much trouble seducing other afficionados.
Few words
Nordic Kayaks is a company that does things right. After concrete but reasonable first steps, Fredrik and Peter were able to collect user and technical feedbacks that led to continuous improvement in the manufacturing process as well as in the designed boat shapes. « We were really happy that we didn't have a huge success right from the start, which allowed us to be flexible, » Fredrik explains wisely. We started with one or two models and got a lot of feedback on them. "There was no hurry at first. And now it's starting to grow. Feedbacks are so good, we are really happy." Concludes the founder.
The company's founding father designed all its hulls. The thread of this one is very clear and professional. And when you ask Fredrik Lindstrom what characterizes Nordic Kayaks before leaving, he says « We are here to stay, we take responsibility for the boat, we have a history behind us. Come, we will take care of you."